Families reconnecting under a golden, Wyoming sunset. New friends sitting around the campfire together sharing adventures of the day. Children reveling in the joy of riding a horse for the first time. Natural beauty and clean mountain air surrounding a group of guests that are now family. This is what we envision for you.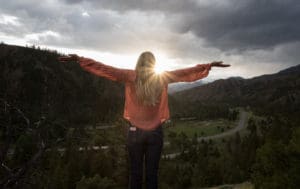 We are a family owned and operated all-inclusive dude ranch that sits in the heart of the Shoshone National Forest just eight miles from the east entrance to Yellowstone National Park. Derived from our personal experience as dude ranch guests, we hold a steadfast commitment to providing you with the vacation of a lifetime. Interested in hearing our full story? Click below.
"From the moment we arrived, we knew we were in for something special! To say our time at Crossed Sabres Ranch was exceptional would be an understatement. From the delicious food, to the wide range of activities, to the incredible staff that quickly became "family", Kenny and Laura created a utopia that impressed beyond words! Thank you for such a wonderful week. Your kindness, your attention to every detail, and your thoughtfulness at every turn crafted an experience that will forever be in our hearts!"
Interested? Click the link below to explore all the activities your vacation of a lifetime will include!